in partnership with

It's no surprise that the rainforests of Tropical North Queensland are among the most spectacular in the world. These ancient forests are the oldest of their kind, with some sections 80 million years older than the Amazon. They've even got the Galapagos Islands beat when it comes to biodiversity, with a staggering array of flora and fauna calling the Wet Tropics home. Don't just take our word for it, though — Sir David Attenborough famously dubbed the region "the most extraordinary place on earth".
When you consider the environmental significance of this lush, green wonderland, it really makes you want to dig a little deeper — and there are plenty of ways to do so responsibly. Here are our top tips for your next travels to the tropics.

EXPLORE A CASTLE IN THE RAINFOREST
For a bit for fairytale magic, you can't forget a day discovering Paronella Park. José Paronella created this paradise when he moved, with his new bride, to Tropical North Queensland from Spain in the 1930s. The castle in the rainforest was built with a tennis court, movie theatre and a luxury ballroom — Paronella also planted over 7000 trees on his land and built a suspension bridge to sit above the park's own waterfall. Paronella was also an engineering pioneer, developing the region's first hydro electric system in 1933. This was restored by the park custodians just over a decade ago, and now powers the entire park.
If you didn't think it could get any dreamier, today Paronella Park blends in beautifully with its environment, a soft layer of green moss glazing the castle walls. You can explore this parkland with a 30-minute guided tour where you will learn more about it's fascinating history and discover the wildlife that inhabits it. Your entry fee will help fund the restoration of this heritage-listed site — plus, it's valid for two years, meaning you can return to the magic again and again.

STAY SOMEWHERE THAT'S ECO-CERTIFIED
You don't have to skip out on luxury to do things sustainably — the rainforest is home to some amazing accommodation options that work with it's environment, not against it. Right in the heart of the Daintree, you will find an array of bayans (treehouses) amongst the lush rainforest. The Daintree Ecolodge is the perfect place for the environmentally conscious traveller — its many sustainable practices include funding native reforestation projects, recycling 100 percent of its water for irrigation and watering and donating $50 per guest stay to the Reef Keepers, an environmental fund that helps preserve the Great Barrier Reef. You can feel disconnected from the world without harming it — enjoy secluded walks to a private waterfall, relaxing at the wellness spa or pool and eating delicious fresh food (from the onsite veggie patch) at the restaurant overlooking the lagoon.
Another option is the beautifully secluded Thala Beach Nature Reserve, a tropical oasis with its very own private beach located between Cairns and Port Douglas. Here, you can kick back and relax in a treetop villa and enjoy fresh local produce at Ospreys Restaurant. Also on offer are wildlife walks with flora and fauna experts, stargazing by the sea and Australia's only coconut tour. Plus, you know you can trust this eco-resort, with its having been awarded the Green Travel Leader with Ecotourism Australia after meeting a strict criteria for a decade — the owners of the lodge worked for over 30 years to re-establish the native forests on the land that had previously been degraded by farming.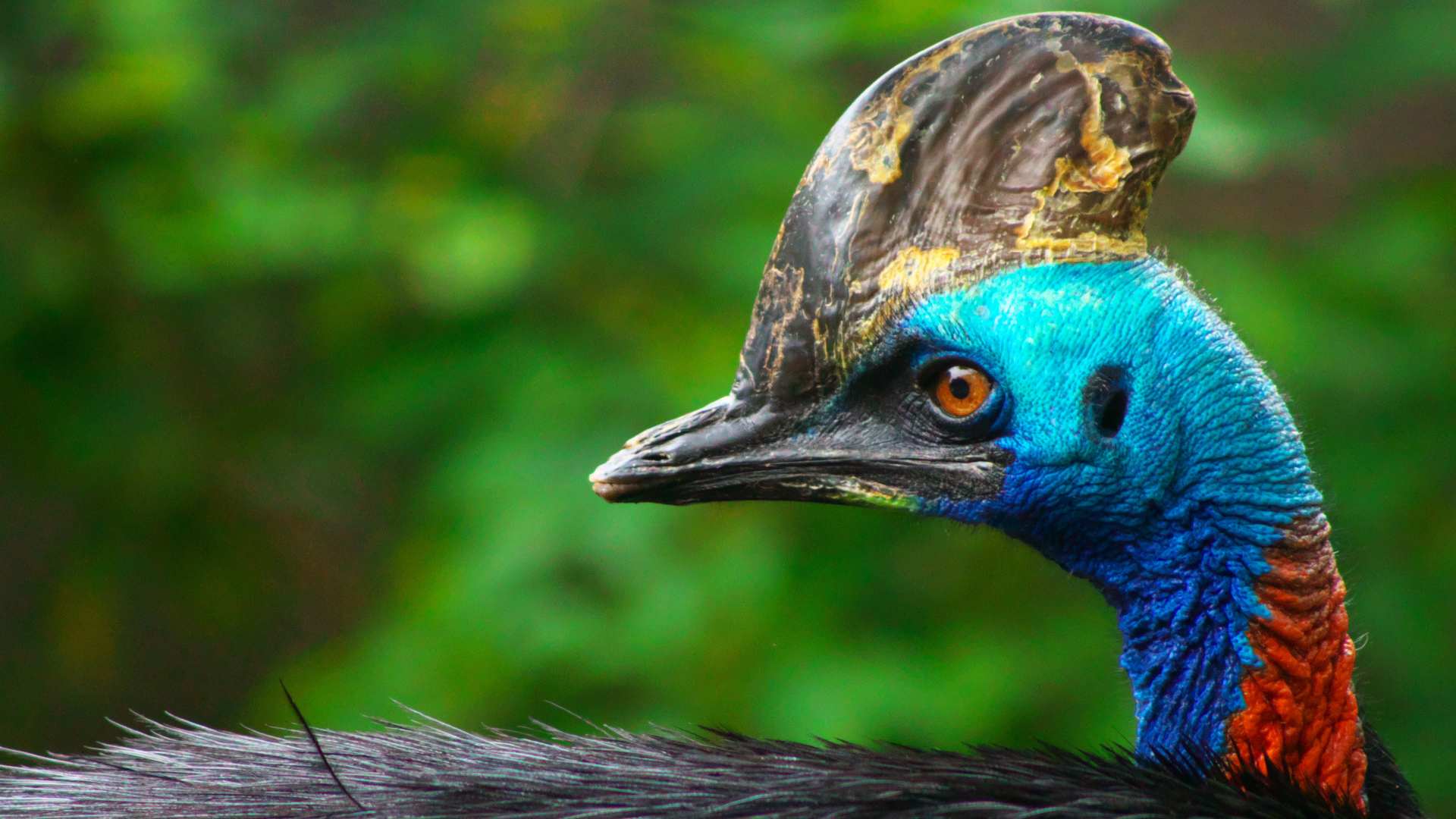 LEARN ABOUT RAINFOREST AND CASSOWARY CONSERVATION
The cassowary is a fruit eating dinosaur-like bird that disperse big seeds, meaning it is crucial for the survival of many rainforests tree species. It is a fascinating creature that plays an important role in maintaining the diversity of the rainforest so it is important we conserve this species.
The Community for Coastal and Cassowary Conservation (C4) in Mission Beach is dedicated to protecting the southern cassowary and the local coastal habitat through community activities and awareness.
If you want to spot one of these beautiful birds in their natural habitat, then stop by the C4 Environmental Display Centre – here you will learn the best way to see a cassowary and discover more interesting facts. And, if you want to get more involved in the conservation process while on holiday, you can take part in C4 planting days and information sessions. Keep an eye on the organisation's website to see what's happening.

TRAVERSE THE TREETOPS VIA SKYRAIL RAINFOREST CABLEWAY
Located just 15 minutes north of Cairns you will find the spectacular Skyrail Rainforest Cableway, where you can explore the oldest continually surviving rainforest in the world from a new perspective. Enjoy the stunning panoramic vistas in a cableway that glides over the lush jungle canopies between Smithfield and Kuranda, or discover Red Peak Station with a complimentary ranger-guided walk and see the prehistoric Barron Falls.
You can immerse yourself in stunning nature without worrying about your impact. Skyrail has cemented itself as a sustainable business after being one of the first tourism attractions in Australia to achieve the Ecotourism Australia Advanced certification, which they have maintained for 20 years.

GET INVOLVED WITH WILDLIFE HABITAT
Just a one-hour drive north of Cairns, this Port Douglas wildlife park provides an incredible way to connect with native fauna. The animals at Wildlife Habitat live in five carefully recreated natural environments, including wetlands, rainforest, savannah, nocturnal and woodlands, with each habitat offering guests a sneak peek into the interconnected lives of these beautiful creatures.
Wildlife Habitat is guided by the ethos of 'observation, appreciation, conservation', which promises safe and sustainable interactions with animals. Guests are invited to swim with saltwater crocodiles, have breakfast with native birds, or cuddle a sweet koala. The park is also home to the Tropical Animal Rehabilitation Centre, which cares for sick, injured and orphaned animals.

VISIT THE DAINTREE DISCOVERY CENTRE
If you want a truly unforgettable view of the Daintree Rainforest, head to the Daintree Discovery Centre at Cow Bay. The famous aerial walkway has been standing for 30 years offering easily accessible stunning views without disrupting the precious root system below. There is also a Canopy Tower boasting 23 metres and boardwalks, offering multiple tours for those itching to discover.
The centre is a leader in ecotourism, doing its bit to preserve the World Heritage area through waste management, recycling and water conservation initiatives, actively planting trees and exceeding its quota to maintain carbon-neutral status, sponsoring research programs, and more. Its Canopy Tower and Micrometeorological Weather Station and Centre also contributes to important Climate Change research.

SEE THE DAINTREE WITH SOLAR WHISPER
Solar Whisper is the only zero-emissions boat on the Daintree River (Julaymba) and is a small, family operated business – making it our top pick to explore the river. The solar electric vessel is whisper quiet, meaning you can soak in the sounds and smells of tropical wildlife without yucky fumes and disturbing noise. It is the perfect way to get closer to nature without impacting it.
An experienced interpretive guide will take you through the river, rainforest and mangroves to spot a spectacular ecosystem of wild life including snakes, frogs, crabs, fish and birds. Plus, if you are lucky you might spot a crocodile above the water or with the croc cam fitted to show any creatures hiding away beneath the surface. With a 99% success rate for spotting crocs, Solar Whisper is a great way to see these impressive creatures in their natural habitat.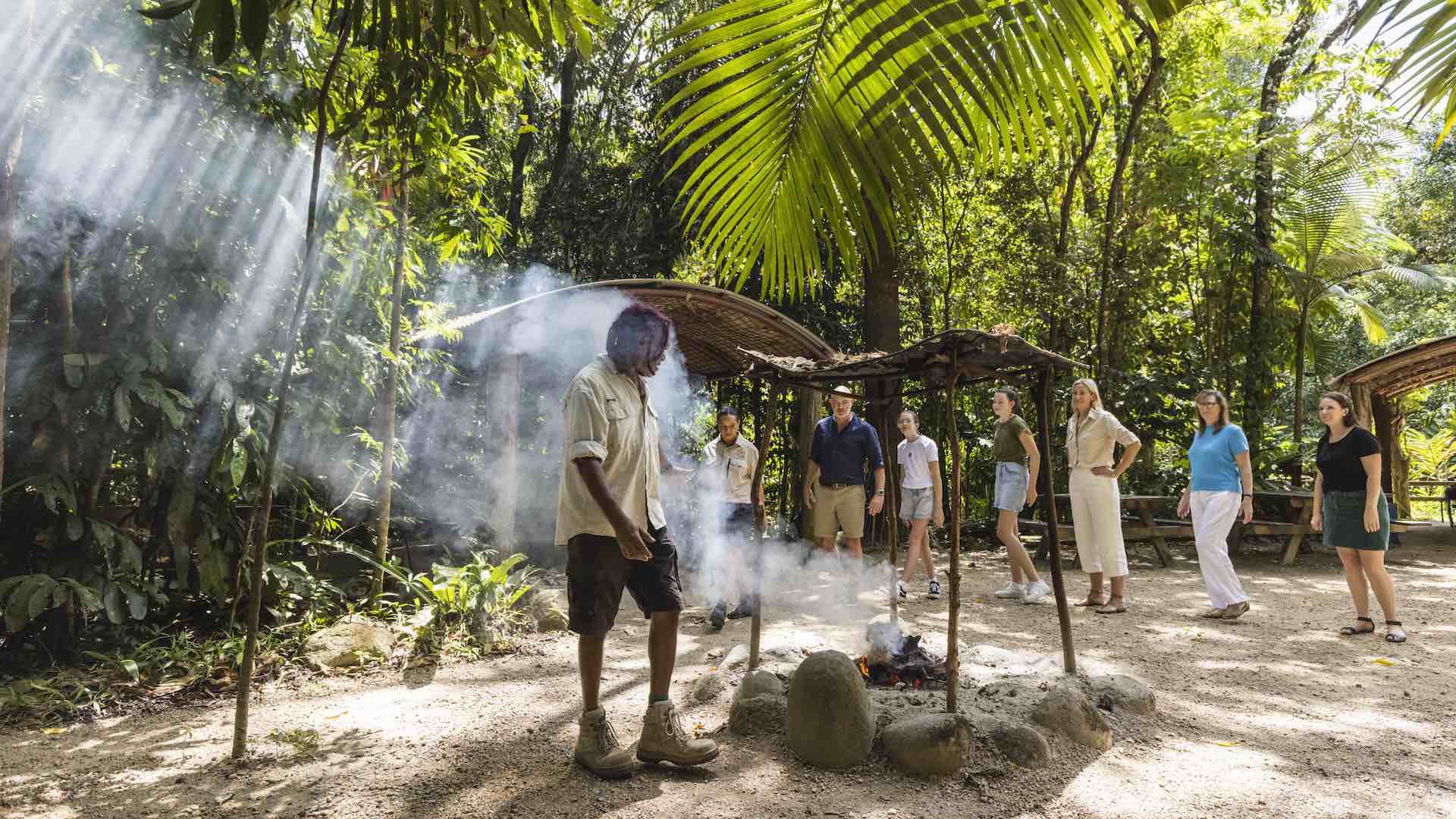 NGADIKU DREAMTIME WALK
For anyone visiting the incredible Mossman Gorge in the Daintree Rainforest, a Ngadiku Dreamtime Walk is definitely not one to miss.
This is the perfect experience for those wanting to gain a deeper understanding of the Daintree land. The Dreamtime Walk commences with a welcoming smoking ceremony and then your guide will lead you on a gentle walk through the many sights of the lush rainforest. You will see traditional huts or humpies, learn about traditional plant use and bush foods and make bush soaps and ochre paint. Plus, your Indigenous guide will share Dreamtime stories that reveals their connection with the tropical environment. After you have worked up an appetite, you will end the tour with a bush tea and damper.

GET INVOLVED IN RAINFOREST RESCUE
To protect rainforests forever. This is the heartbreakingly simple vision of Rainforest Rescue, a not-for-profit conservation organisation that has been operating since 1999. Its team searches locally and internationally for sections of vulnerable rainforests that could benefit from conservation assistance. Once identified, these rainforests are purchased by Rainforest Rescue to ensure their future safety, and are maintained as conservation zones. Basically, these guys are the real-life version of Captain Planet, but luckily, you don't need superpowers to join the mission. Through its Buy Back & Protect Forever scheme, each $10 donation will protect two square metres of the Daintree. Rainforest Rescue also welcomes any green-thumbed volunteers to apply to become involved with its North Queensland plant nursery.

Ready to be rewarded for living responsibly? For more information on obtaining Green tier status via the Qantas Frequent Flyers program, visit the website.
Top images: Tourism and Events Queensland,  Tourism Tropical North Queensland

Published on March 11, 2022 by
Concrete Playground