Prologue
We could be on our way to camp — 24 of us are crowded in a charter bus headed north of Los Angeles, our luggage packed in tight underneath the vehicle, the bus swinging widely around scenic turns. We wind our way along the ocean, on Pacific Coast Highway, passing fruit stands, seafood markets and at least one sunflower farm.
But there are no raucous rounds of "99 Bottles of Beer on the Wall" to pass the time on this road trip, no macramé-ing of friendship bracelets. And archery, horseback riding and kickball are not on the agenda this weekend.
The main event? Books.
We're on a readers retreat. This is not to be confused with a writers retreat, where aspiring authors attend instructive workshops and spend chunks of time, alone, working on their manuscripts. Nor is it an authors retreat for published writers to attend panels and network with other authors and publishers.
This bookish vacation — three days in the Santa Ynez Valley wine country — was organized by book magnate Zibby Owens of Zibby Media. Her quarterly retreats for book lovers, run by Graca Tito and each in a different part of the country, could be considered yet another offshoot of her growing literary empire, which began with a 2018 podcast, "Moms Don't Have Time to Read Books" (on which she interviews authors) and grew to include a book club, a magazine, classes, a podcast network, a publishing company and now a bookstore in Santa Monica, Zibby's Bookshop. Except that the impetus for the retreats — fostering connection between book lovers and bringing new books to light, whether from Zibby Books or elsewhere — is the root of why Owens started the podcast to begin with. The desire for book community came first, then the podcast and all its media offshoots followed, she explains, and now the retreats bring the initial goal full circle.
"The heart of the whole brand is when people actually get together," Owens says. "The retreats are intimate. The whole goal is about deepening the connection between authors and readers. And spreading the word about books that I love."
The bus ride to the Danish village of Solvang, where we'll be staying, is an animated, IRL version of Owens' motto — "Stories are best when shared" — which appears on the tote bags full of snacks that she's given us for the trip. The roar of conversation on the bus is near-deafening and constant. Most of these women — who have traveled from the Midwest and the East Coast, with several from the L.A. area and one from Japan — have just met and they launch into intimate story sharing, a merry if passionate sound that forms the cacophonous backdrop of the next three days. Some of the travelers have books cracked open on their laps, and they flip through pages or pass the book to their seatmate.
"Well, I'm a mom, so I get it … ," from the back of the bus.
"It was a midlife career shift … ," from another seat.
The collective conversation runs from aging parents to politics to wine varietals to e-reader devices before we pull into a gas station to pee. Stretching her legs in the parking lot, one guest shows off her freshly painted nails, which feature tiny images of Zibby's podcast logo on different fingers. Zibby-fandom abounds here.
There are 62 people on the retreat, all women, though it was open to men as well. Five are featured authors who will be leading chats. Michelle Wildgen ("Wine People") and Patty Lin ("End Credits") are Zibby Books authors. Silvia Vasquez-Lavado ("In the Shadow of the Mountain"), Eirinie Carson ("The Dead Are Gods") and Cin Fabré ("Wolf Hustle") are with other publishers, but Owens was so moved by their books that she wants "to shout them from the rooftops."
About a third of the guests are aspiring writers looking for guidance, inspiration or simply to hobnob with published authors — and for those folks, the retreat does include a few workshops, though it's meant to be more of a "fun, restorative weekend," as Owens puts it, with yoga, cocktail parties and at least one walking tour of the area.
The majority of the guests, however, are simply voracious readers, with no writing or publishing aspirations. They just want to be around like-minded bookworms.
"I have zero ambitions to write a book. Nope, never!" says Diane Pavesic, 65, a retired nurse who now works as a yoga therapist. Pavesic takes one vacation a year from her Huntington Beach neighborhood, and this is it.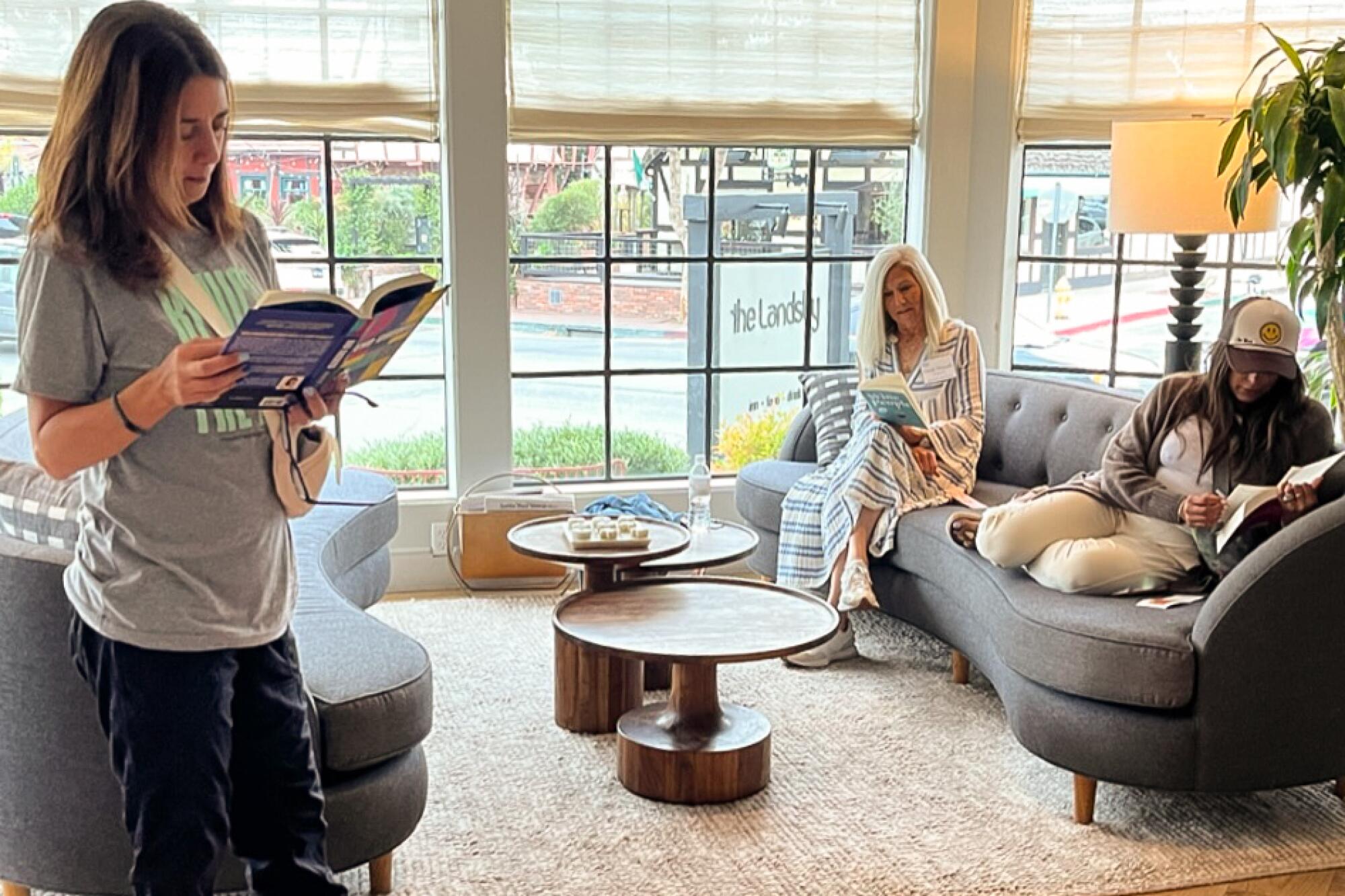 "A lot of my friends aren't reading anymore. And I want to talk to people who are still reading," Pavesic says, adding that she consumes several books a week. "I find that people who read books are more interesting and always have something to talk about."
Cindy Denault, 61, and Lauren Denault, 35, from Tennessee and Colorado, respectively, are on a mother-daughter, book-bonding trip.
"This is like a dream thing for me to do," Cindy Denault says, "to be in a place with people who like to read for three days, people who love something that I love. And to have time, just the two of us, to share it — it's special."
Chapter 1: Rolling into Solvang and a sense of belonging
Arriving at the Landsby, a boutique hotel featuring minimalist Scandinavian design — lots of unfinished wood, macramé wall hangings and tiled fireplaces — one needn't worry about getting lost. Just follow the booming din of connection — around a corner here, down a staircase there. It provides a compass of sorts for the afternoon's events: an al fresco lunch in the courtyard followed by a workshop on facing your inner critic.
Inside my hotel suite, the din passes by in the hallway, so loud and pronounced it has presence, as if a guest unto itself. "I know, I know, I know. That book changed my life … !"
Settling onto the couch in my suite, I question for a moment why I'm here. I'm on one of my first wellness beat assignments; and this feels more like a travel piece. I unpack the paperbacks I've lugged with me — "The Buddha on Death Row," which I'm finishing up, and the memoir "Educated," which I've just started. Books flood me with a cocktail of inspiration and calm in a way no other medium does. They provide a virtual space I can relax into, where the concerns of the real world melt away, at least temporarily. And isn't intellectual stimulation a tenant of wellness? I decide that, among other things, this reader retreat is decidedly a wellness event. And that I belong here, a feeling cemented after chatting with so many like-minded guests.
"Book people are my people," one woman tells another while moving along the buffet line at lunch. "You feel seen."
Chapter 2: Grief, community and the repeat retreaters
A late-afternoon walk through Solvang ends — where else? — at a quaint, independent bookshop. It's there that Meher Ali-Owens, who's on her second book retreat with Zibby Media, tells of how her now-deceased mother led her here.
Her mother — a physician from central India who was a voracious reader and instilled a love of books in her two children — passed away, unexpectedly, in February. Ali-Owens, 57, had been sitting by her mother's bedside in hospice, scrolling through her phone, her mother sleeping beside her, when an ad for a Zibby Media retreat popped up.
"I'd never heard of Zibby. But I looked at my frail, little amazing mom, who loves books and was a proponent of every adventure and 'do great things' and 'take a risk,' and I was, like, 'I'm just gonna buy this,'" she says.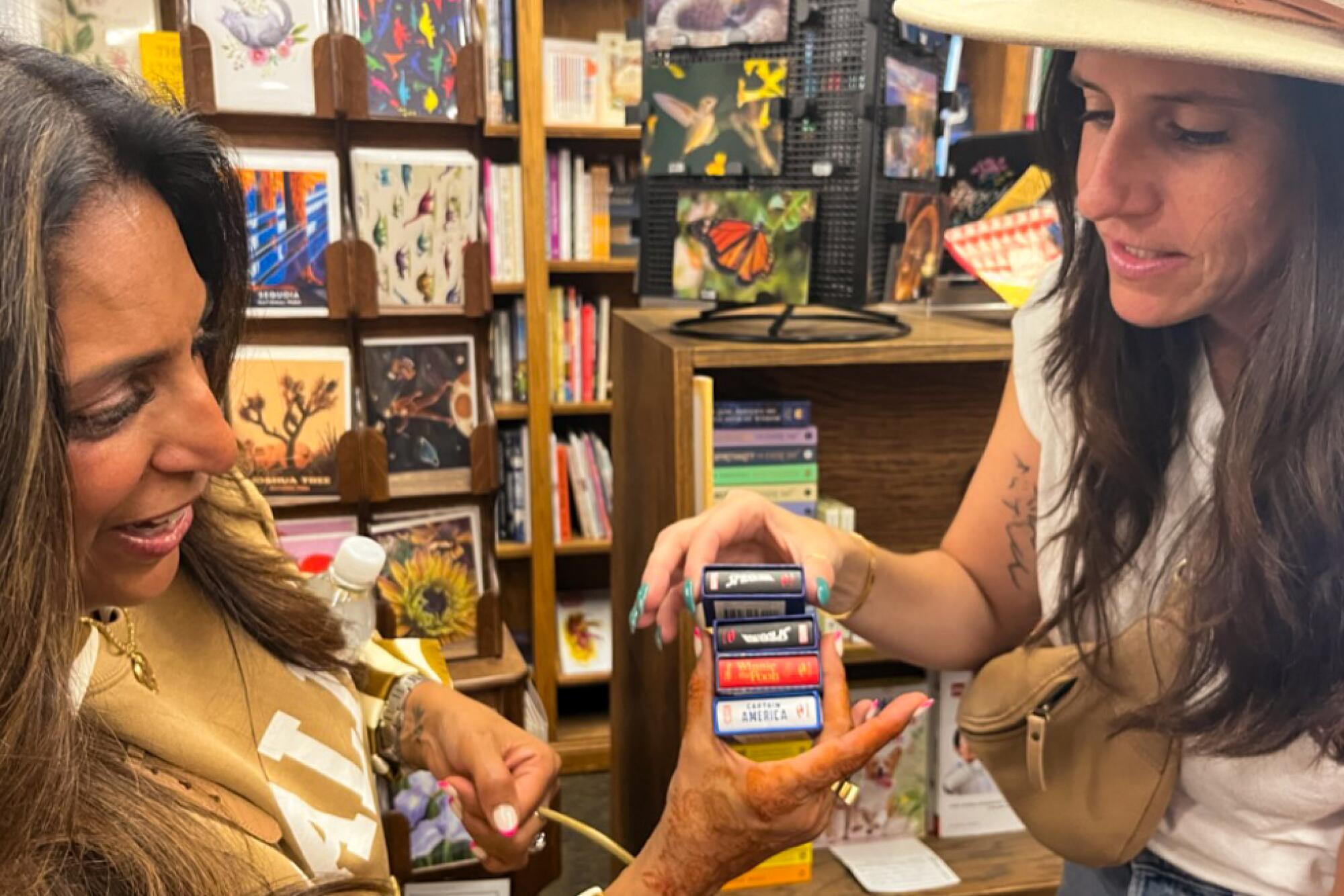 The Charleston, S.C., retreat that April took place shortly after her mother passed away. "I felt like she had led me there," Ali-Owens says, her eyes now welling with tears.
It was on that retreat that Ali-Owens, a wardrobe consultant living in Chicago, met Susie Yablonsky, 55, who teaches pre-kindergarten in Minneapolis, and Andrea Cuene, 56, a lobbyist for the Minnesota School Boards Assn. They became friends. The three — all avid readers — decided to meet up again for the Solvang retreat.
"It's been healing," Ali-Owens says. "Everyone seems to have such a cool story of the connection to reading and books and what that brings to your life. There are 60 people here but the connector is words and the power of them."
"I just like this community," Yablonsky adds. "Making friends, hearing about new books, visiting a new city — Zibby has a way of bringing people together."
Cuene has a different point of view.
"My only criticism," she jokes, "is there's not enough time for reading!"
It's during Vasquez-Lavado's author chat the next day when things go silent.
Vasquez-Lavado, a Peruvian American mountaineer, tells of being the first out gay woman to conquer the Seven Summits, the highest mountains on each of the seven continents.
Then she tells us about surviving childhood sexual abuse in Peru; about her battle with adult alcoholism; about her coming out as a lesbian and being a woman in male-dominated circles such as San Francisco's tech industry and mountaineering. In hiking to Mt. Everest's summit — Chomolungma, or the Great Mother — chronicled in her book, she found release and began to heal.
Afterward, women in the audience share stories of overcoming trauma. Tears are shed. But there's a supportive and encouraging undercurrent in the room.
"My book," Vasquez-Lavado tells us, "it may look like a mountaineering book. But it's a metaphor for all the times we get knocked down — and get back up again."
Chapter 4: 'You just feel taken care of'
After early morning yoga led by Sarah Ezrin, author of "The Yoga of Parenting," we board the bus again and wind through the honey-colored hills to Sunstone Winery, where we enjoy a picnic lunch and wine tasting under a ginormous, live oak tree by a Mediterranean-looking villa.
Wildgen's book, which came out a month earlier, was the inspiration for the retreat location. It's about two women who work in wine importing, "one who clawed her way into it and another who was born into it," Wildgen says. Over lunch, she gives a chat about researching the book, which provides a window into "what's it like to be in that world, what are the problems that come up in the industry, what are the people like."
This is Wildgen's third novel, but "discoverability" is still a challenge for all authors in the age of Amazon. Owens says her retreats aren't about book promotion and sales; but connecting authors, who have new releases out, with book fans from around the country while on vacation — many of whom will share their experiences with their book clubs upon returning home — is clearly an innovative business strategy, with word of mouth at its core.
Wildgen agrees that's valuable, but says she's enjoying the experience for what it is: a book vacation.
"Just knowing we're all here to talk about books," she says, "that these are like-minded people — and also that we're in wine country — you just feel taken care of."
Since I'm not staying until the retreat's end, I call an Uber. Soon I'm in a truck, all its windows rolled down and the fragrant wine country air rushing in, my bag bouncing around in the open truck bed and a small dog sleeping on the driver's lap.
As we head up the gravel road, leaving Sunstone behind us, the pronounced din, now mingled with the clinking of glassware, recedes in the background.
Which is melancholic, considering what Owens had said about the sharing of stories on vacation: "It's the greatest sound ever."
The End
Watch L.A. Times Today at 7 p.m. on Spectrum News 1 on Channel 1 or live stream on the Spectrum News App. Palos Verdes Peninsula and Orange County viewers can watch on Cox Systems on channel 99.